Senior Designer Samantha Miller examines what makes a great thought leadership report.
Our guide to composing, crafting and promoting thought leadership campaigns with invaluable impact. Leverage forward-thinking design to make the most out of your team's expertise.
Thought leadership allows you to showcase the deep sector knowledge of your people while rewarding current clients and winning new ones. However, hours of research and writing count for nothing if the content hasn't been carefully curated with the audience in mind. And if your beautifully crafted sentences and ground-breaking data aren't presented in an engaging way, you'll lose your reader after the first paragraph.
Within International have produced countless reports for our clients over the years. This experience has taught us a thing or two about what makes a successful campaign.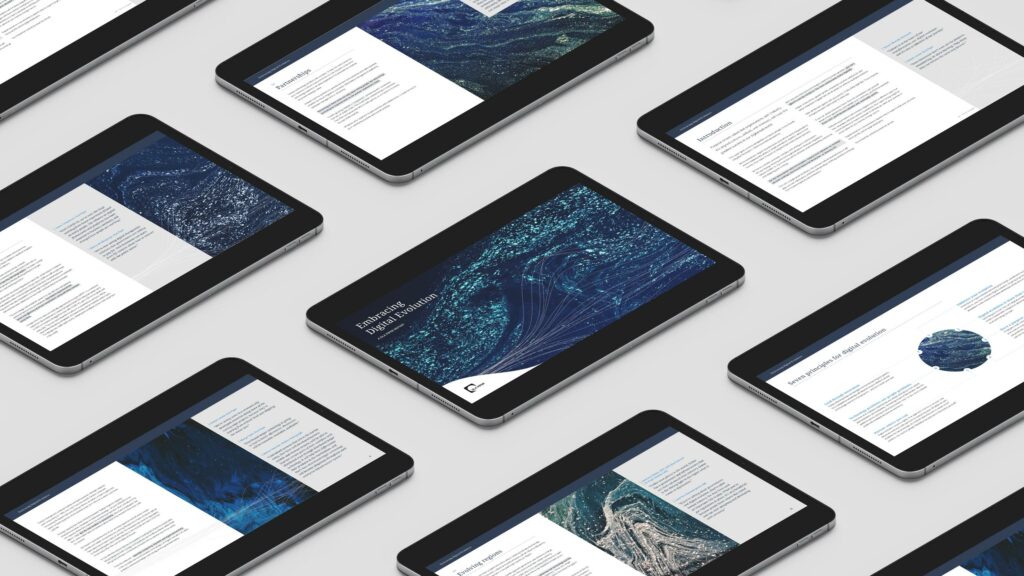 We have produced numerous thought leadership reports for DLA Piper, such as this interactive document on digital evolution.
Follow our guidelines below to learn how to integrate the design process early on in your project plan. You'll create a rich and compelling audience experience that focuses on the benefits to your reader and presents your expertise in the most attractive way.
Focus on the audience
We've all heard the buzzword "user-centred design". But what does that mean from a practical perspective? When it comes to planning your next thought leadership campaign, it pays to consider the following from the outset:
Who is your primary target reader, and what pain points will the report solve for them? You want to show off your company's expertise, but people will only be interested if it addresses a pressing issue.
Consider the document format.
What will engage your audience most? A high-quality printed report they will keep for years? A PDF they can read on their commute? A regularly updated website they can check often?
Remember to write for a time-poor reader, not for yourself. Keep things powerful, clear and concise. The audience wants your high-level analysis; don't get bogged down with technical detail. Remember, you can always link out to external supporting sources.
Think design-first
Often, the look and feel of a document is only considered as an afterthought. Bring in your designer from the project outset and you'll rise above the competition.
Focus your design brief on the desired outcomes, rather than the means of getting there. Do say, "We want the document to feel optimistic and energetic". Don't say, "We want to use lots of bright colours and wavy lines". Give your designer the freedom to problem-solve in the most effective and original way.
Source assets early. Want to include headshots of your key people at the end of the document? Find those high-resolution pictures. Hoping to include graphs and charts? The designer will need the raw data files to work with.
Elevate your message by integrating a 360-degree view of your topic. Include quotations, visualisations, case studies and pull-out facts. By giving your designer a range of content types, they can create something sophisticated, layered and compelling.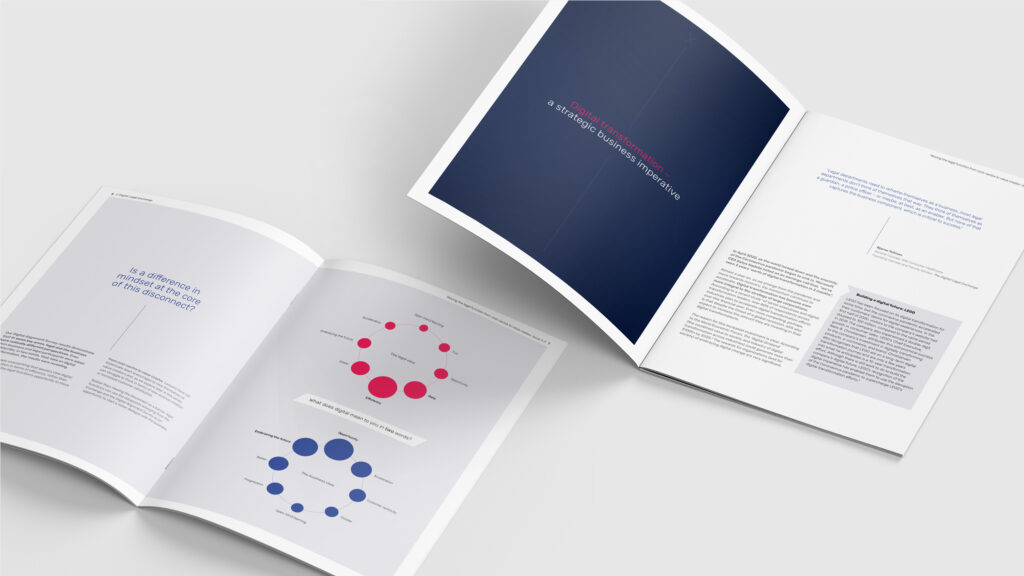 We created a thought leadership report for Digital Legal Exchange which included quotations, infographics and case studies to drive home the key messages.
Keep things consistent…
Much like the best persuasive writing, good design thrives on repetition, alignment and hierarchy. Keep these principles in mind when preparing the copy and your designer will have everything they need to create a document with pace, rhythm and flair.
Get your table of contents clear early on – a structured hierarchy guides the reader and demonstrates clarity of thinking.
Consider word count. By keeping each of your chapters, introductory paragraphs and subheadings a similar length to one another, it facilitates consistent design patterns that give your document that well-thought out feel and make for a pleasant reading experience.
Appoint an editor or proofreader, particularly if your thought leadership report is written by multiple authors. Don't let your hard work be undermined at the last hurdle by unprofessional typos or inconsistencies.
…But don't be afraid to mix it up
A good thought leadership piece isn't just dry prose. Take your audience on a journey by using storytelling techniques to grab attention and maintain interest. This means sometimes deviating from the norm to highlight the most impactful insights.
Vary the formatting. Introduce bullet points, numbered lists and stand-out statements to break up the rhythm and control the flow.
Embrace white space. Not every page needs to be packed with facts and figures. Empty space on the page gives the eye a place to rest and allows your audience time to digest the key messages.
Direct your designer. Let them know what the most salient points in the report are, and they will do the rest.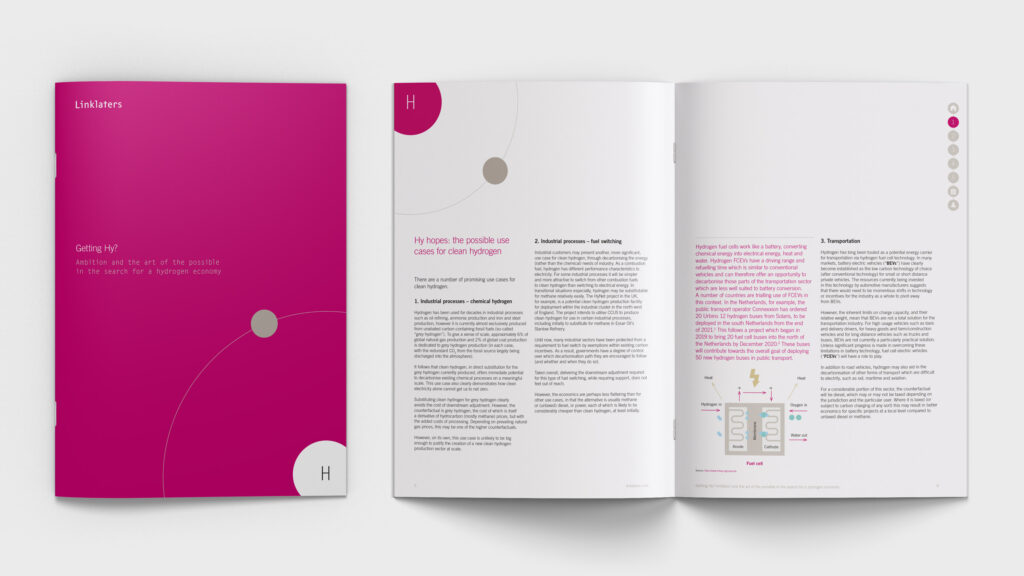 This thought leadership report for Linklaters relied on a bold design, with lots of white space to allow the content to sing.
An insightfully written and visually impactful report isn't the end of your thought leadership journey; it's the jumping off point for a whole host of ancillary marketing materials. Why not commission a promotional piece to camera with the report experts, start a podcast series expanding on the key takeaways, or create an action plan checklist for your clients?
Remember, your hard work is only worth it if your campaign provokes a response. Make your call to action clear at every touchpoint and you can look forward to enhanced client engagement, a jump in new business leads, or increased industry exposure for your people.
Is your BD team lacking the resources to market your company's expertise to the full? Get in touch to see how we can help you write, design and launch your next thought leadership piece.