We have a century of top-level collective experience working with brilliant people in brilliant companies. 
Our studio is designed to be an extension of your office. We take pride in understanding the pressures our clients face, as well as their communication needs.
Every one of our clients is appointed a senior point of contact. Beyond that, specific project requirements determine further team selection. Our teams work collaboratively, not only across our own departments, but across yours as well.
We believe that design is about applying tested principles to the way people live and work, think and feel. In a changing world, we have the talent and flexibility to shift focus as quickly as our clients do. Our relationship approach underpins this flexibility.
Ruxandra Radulescu
CEO / Mastermind
Rux has an endless passion to understand, untangle, and unearth the mysteries of the human brain. With a drive that knows no limits, she advocates for the heart of the agency—its people—through a potent combination of confidence, care and vision.
Rux has an unparalleled ability to thrive in any environment. And not just in a business context; whether it be picking up a golf club for the first time or trying her hand at baking sourdough, "beginner's luck" does not do it justice – she's irritatingly good at everything. She also has a real gift for understanding what makes people tick, and for creating a support-system that enables them to thrive. Her business instincts and observant nature are almost telepathic, allowing her to solve problems effortlessly and connect with people on a deep level.
Rux's enthusiasm for unlocking the potential of the human brain is contagious. We suspect she has found a way to build neural pathways that allow her to fuse intelligence, perseverance, and action into a powerfully efficient cocktail. When seeking inspiration to conceptualise our new brand, Rux's brain was the obvious place to start.
As CEO, Rux's work is multi-faceted, requiring hard work, meticulous attention to detail, and a high sense of fairness. It is under her leadership that our reputation for luxury service, meaningful connections and exceptional quality was forged, and it is with her drive for excellence that we continue to pursue ever greater successes.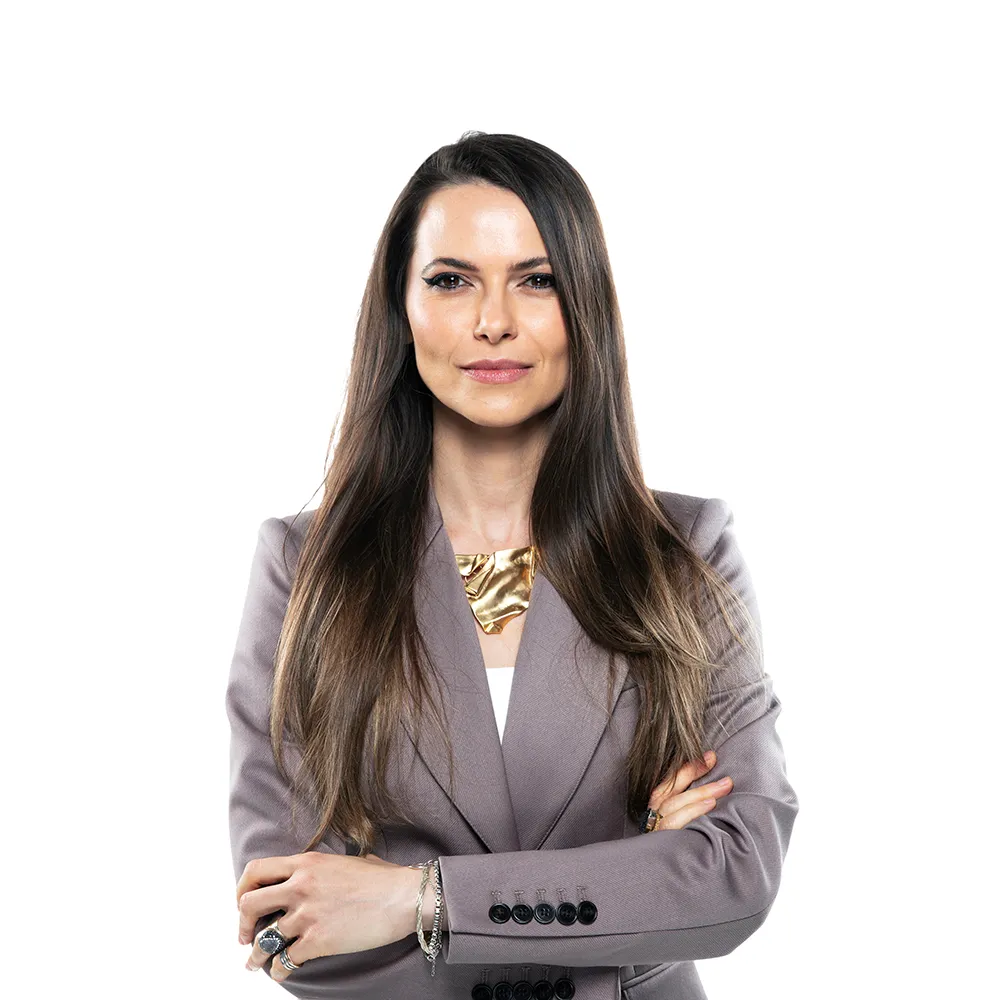 Will Hambling
Creative Director and Founder / Originator
Meet Will. With a quick wit and a creative's mind that never stops churning, Will has an energy that inspires, and often baffles, everyone that crosses his path. A true visionary, he's always pushing the boundaries of what we *assume* is possible – in turn, motivating the team to be bigger and bolder in their thinking.
A natural problem-solver with a keen sense of how to navigate the ever-changing landscape of our industry, Will's people-first approach to business has created a culture of collaboration and creativity that is uncompromising.
As the agency's creative spark, Will's raw talent in ideation ignites the genuine enthusiasm for what we do among the team, which translates into exceptional work delivered to clients. Whether he's conceiving a global brand or crafting a one-off campaign, Will pursues the unconventional, never-been-done-before and, occasionally, complex to reform how global business communicates.
When he's not busy leading the team to greatness, Will can be found indulging his love of early morning conversations with his daughter (affectionately known as the true brain behind our creative). He's also an accomplished woodworker, channelling his expertise in 3D spatial visualisation into building beautiful pieces that are as timeless as his legendary, quintessentially British catchphrases.
Will is the beating heart of the agency. It is his vision, confidence and mind-bending force that have propelled Within International to new heights. His clients know that they can always rely on him to deliver strategic brilliance, with a clever quip or two on the side.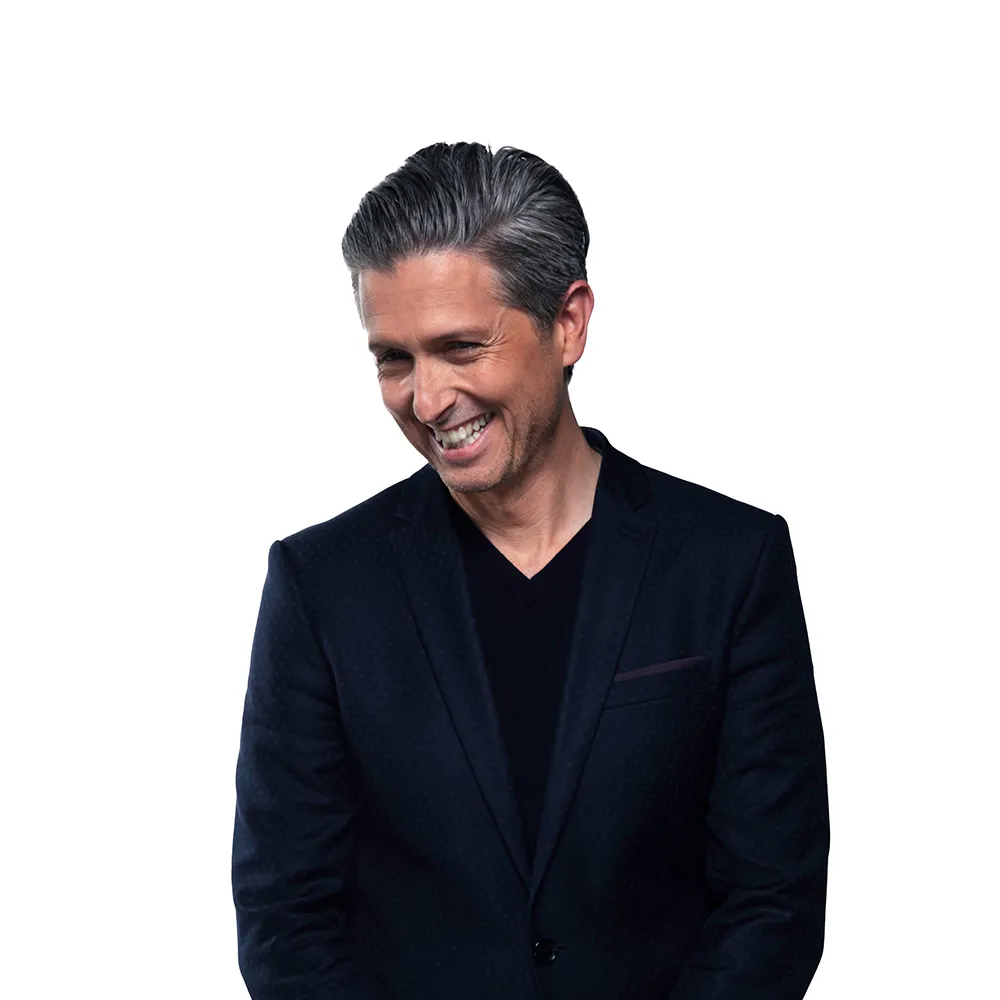 Mitul Rajani
Director of Experiential & Film / Luminary
Mit is responsible for a huge amount of the success Within International has enjoyed in the decade or so he has spent with us. His love for, skill in, and knowledge of film and animation is astounding, as is the kindness and humility he brings to our studio.
Mit is part computer (sadly PC-based but nonetheless) with an unerring ability to understand, learn and apply software within days of first interacting with it. Complex software that much of the studio learns over years, Mit consumes in weeks and then produces world-class results whilst the rest of us plough through tutorials. It is one thing to learn fast, or immediately in this case, but it's all about the application, and Mit is the very best here too.
Mit began his editing career in live broadcast television. From late-night chat-shows and live sporting events to day-time tv and children's programming, Mit has plenty of experience working all hours of the day on little sleep. Cutting together promos and segments to go on air that day or evening solidified his calm demeanour in time precious environments.
As comfortable on stage as in the edit suite, Mit is an accomplished vocalist and guitarist. Celebrated in the Camden heavy metal scene, the team here have been known to don the earplugs (the done thing, no comment on his band's ability) and watch a live gig. His musical talent is evident in his edit style – full of pace, style and purpose.
Mit is hugely popular with the team and clients alike. A teacher at heart, always available to his team and passing on his considerable skills wherever possible. He is also a grounded, beautiful human being with a laser like moral compass. A live edit with Mit, according to the clients that do it, is an education and a pleasure.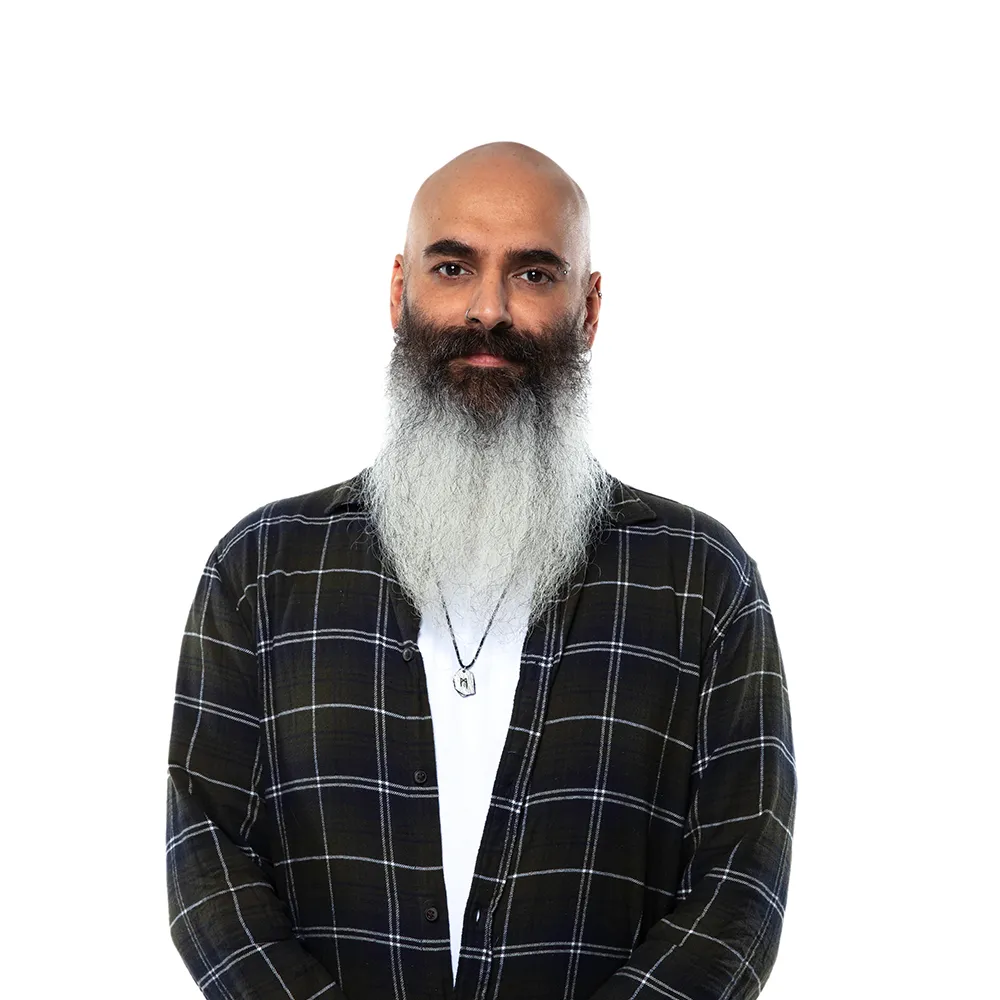 Kornelia Bala
Associate Client Director / Oracle
The oracle – or perhaps that's understating things a little? What Kornelia doesn't know about the projects she runs are either not worth knowing, or false. Expertly navigating the waters between clients and creatives, Kornelia brings methodical acumen and almost supernatural organisation to everything she touches. Her clients insist on her running things agency-side, and that suits us, and her, just fine.
The central part of our client services team, Kornelia builds trusted relationships by taking the time to understand our clients' needs, preferences and, crucially, the bigger picture to offer guidance which is considered and foresighted. Her ability to spot a potential problem and act before it becomes one is legendary at Within International.
Kornelia's merits go far beyond relationship skills. She is a strategic thinker, accomplished businessperson and superb crisis manager. She produces and directs films with the same level of excellence as anyone in the industry, and still has time to counsel and galvanize her team to ensure we deliver an experience that consistently impresses, reassures and delights.
Always first to volunteer for the long-haul travel assignments (especially if sunshine or a coastline is involved) – Kornelia's clients love her can-do attitude, which is complemented by an international background and stylish sophistication that makes her at home in any client environment.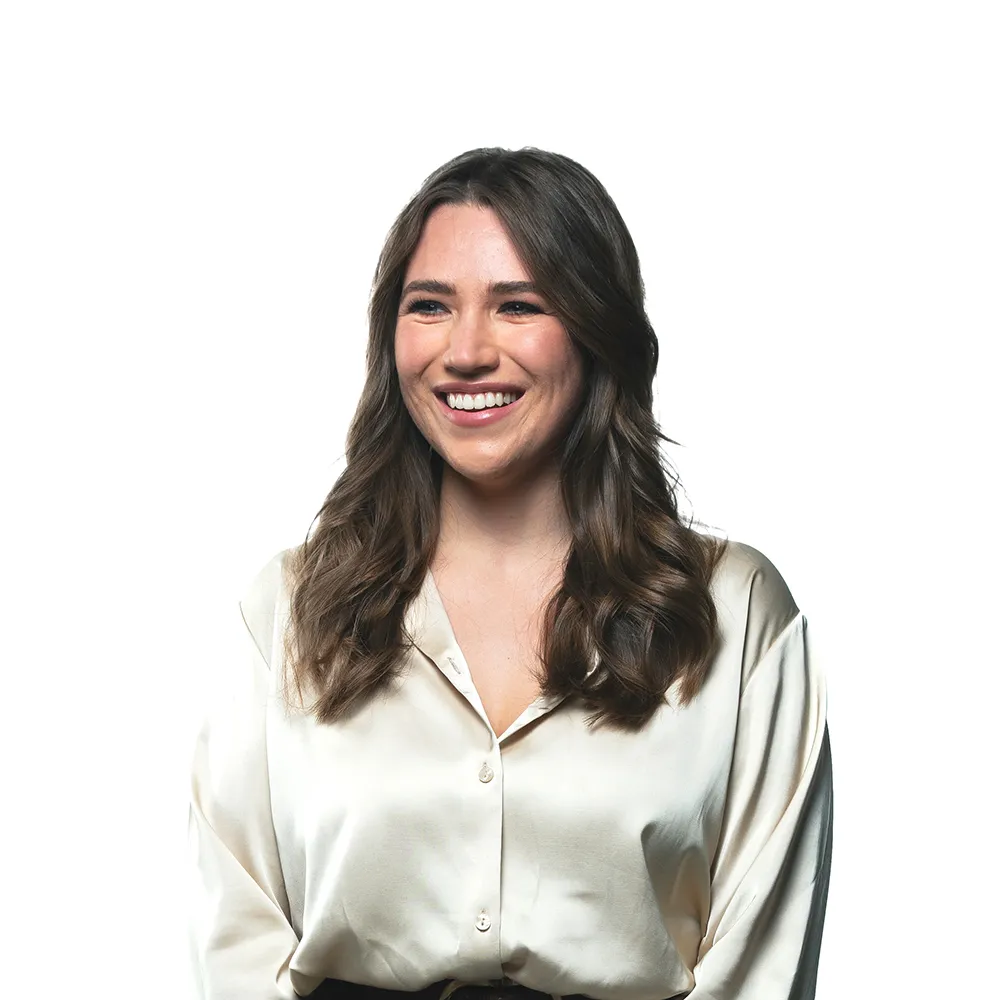 Sarah Cestau
Head of Operational Excellence / Instigator
Sarah is unique, in that we are still trying to find something she cannot do. Bordering on the ridiculous, Sarah's talent for jumping between complex tasks and always delivering is a talent few possess. She is at home talking tech, PR, logistics, operations, finance, strategy, business development, advertising… let's leave in there as the list is never ending. Sarah is an instigator, in all the right ways. Her knack of advising people, teams and clients to get the very best from a situation by doing more, is infectious.
Having run our Hong Kong studio for three years, Sarah is finally back in London, to huge fanfare. She has managed an eight-hour time difference so well that very few adjustments need to be made now she is in Shoreditch with the rest of us. Which is frankly where someone with style, an eye for the creative and a PR background belongs.
Sarah's approach to all complex matters is one of calm and equilibrium. She manages to get the best out of those around her and is a vital source of advice for the CEO and Founder. Sarah acts decisively and methodically in a huge range of tasks, with a seemingly endless positivity that is loved here at Within International.
Sarah's commitment to her team and her clients extends well past the job description. She is incredibly compassionate and cares deeply about the collective success of any process she is part of. Her high Intelligence Quotient is matched by her Emotional Intelligence Quotient, making her an asset to everything she touches.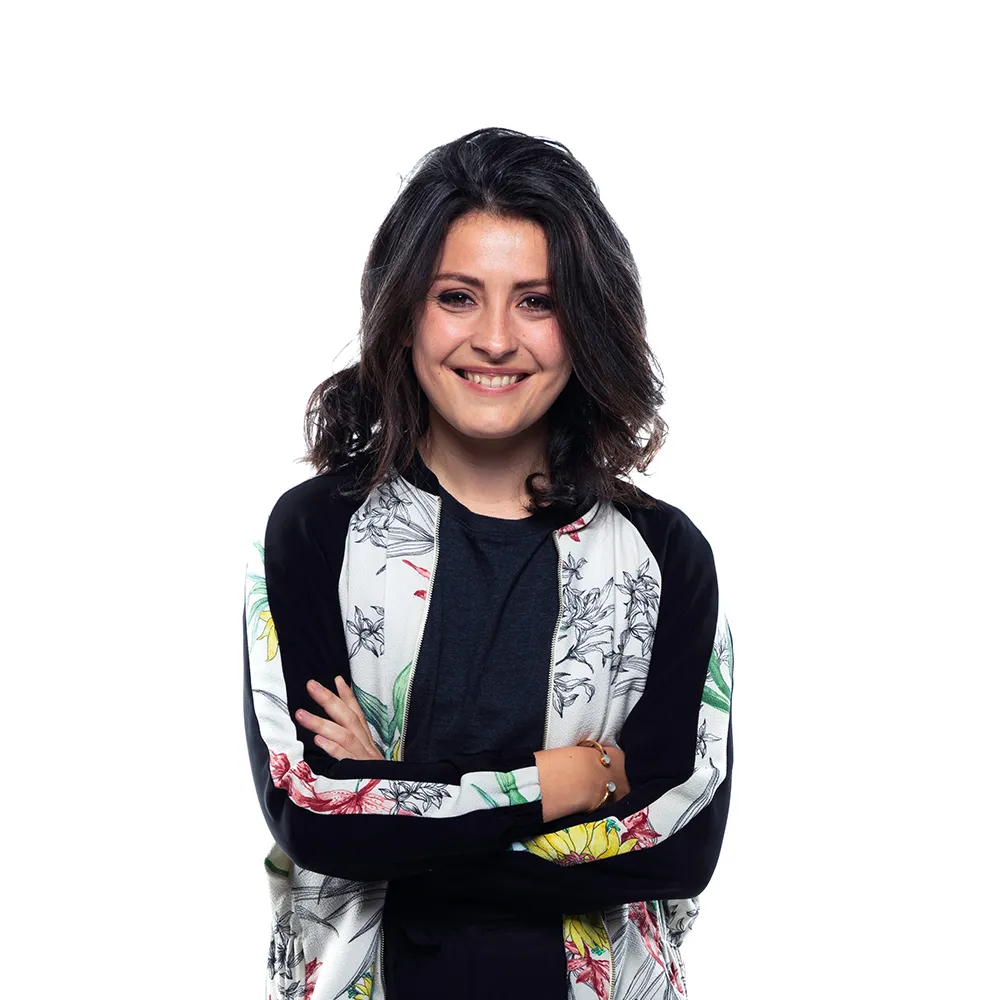 Tolley Moloney
Associate Design Director / Theorist
A sixty-year-old brain trapped in a thirty-year-old body, Tolley's wisdom and pragmatism is frequently revered (and, he would add, occasionally teased) in the studio.
A brilliant thinker and conceptualist as well as a first-rate technician, he eats, sleeps and breathes brand. Tolley's rise at Within International can be put down to two things – raw talent, honed-in in Scandinavia, and a sheer bloody mindedness to be the very best he can be.
Tolley's approach to a project is exceptional. He goes the extra mile to understand his clients' needs, and his inquisitive approach is well-received. He wants to know everything about the clients he creates products for, and this sets him apart from others in his field.
When not at this desk he can be found straddling the contradictory pairing of tending to chilli plants in his allotment or sparring more experienced boxers in the gym. It is this kind of dichotomy that speaks volumes about Tolley.
His theorist approach and drive to find new ways to create is fast becoming the thing clients ask for. Getting the job done is not enough, Tolley looks for the path least trodden, and the results speak for themselves.
As a manager of the brand team, Tolley is just as committed. He dutifully directs and teaches whilst being constantly available for support and advise. He contributes massively on our management team, having the pulse of the studio and our clients alike and leaving no opportunity missed to make things better.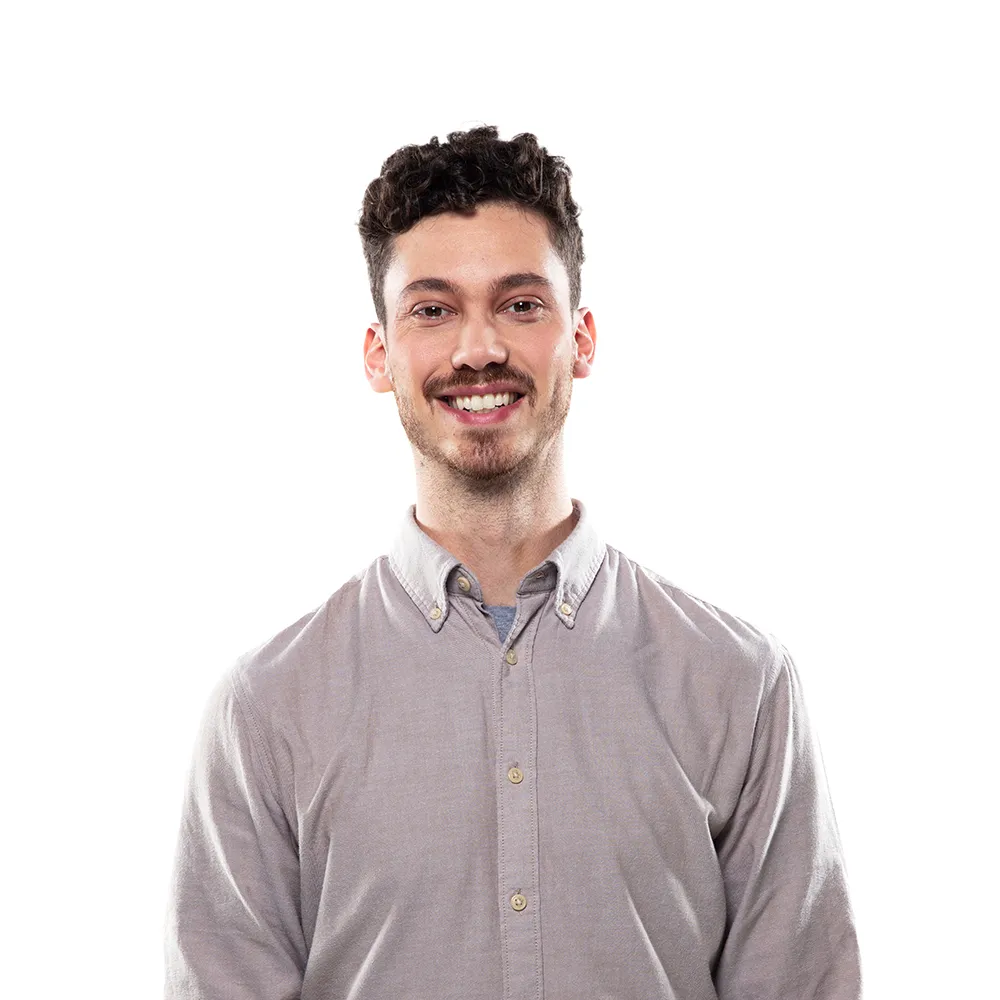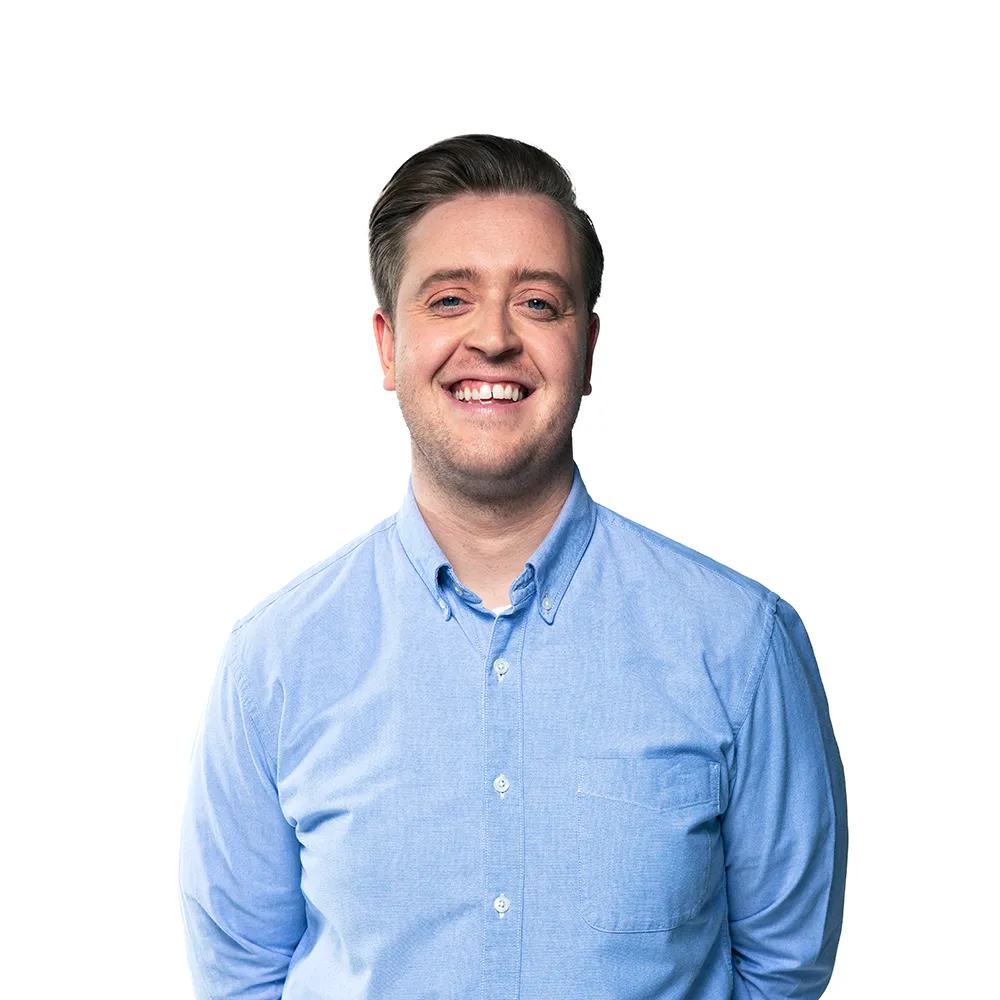 Tim Lucraft
Senior Designer / Statistician
Our resident Americanophile, Tim can name all 50 States in the US, has visited many of them and can tell you who plays hockey, basketball, baseball or football for who and where. Not content with US sports, Tim has an encyclopaedic knowledge of cricket too. But the real thing to note about Tim and his love of sport is that it is the nuance, strategy and complexity he loves, as opposed to the usual highs and lows of adrenalin. You will see this in his work too – understanding the complex to tell a story with data is his superpower.
Tim joined us from a global restaurant chain where he led the creative output in print, media and digital. This too shows in his work, Tim likes to follow the customer journey and understand what they need at each step, from start to finish.
Statistics, data, patterns and processes are where most of us crumble, but this is Tim's happy place. Transforming Excel spreadsheets into understandable product, in a beautiful way. Like many designers, Tim is a bit of a nerd, but the kind of nerd you do want to share a beer with.
As Senior Designer, Tim supports Tolley in the running of the brand team and is a key component in working with client services to implement and output projects. And if that were not enough, Tim also often joins the film team to give a brand perspective on moving image, and, when we let him, lends a hand behind the camera too.
Marcus Grip
Senior Film Specialist / Explorer
When we found Marcus, he was laying on a surfboard in the middle of an icy lake holding a wildly expensive camera. Why? We still are not entirely sure, but it did tell us pretty quickly that Marcus will do anything to get the shot we need. Of course, legal, insurance, financial, real estate and consulting clients rarely need waterborne cinematic frames, but if they did, we'd send Marcus.
Never one to miss an opportunity to learn, Marcus explores everything. An insatiable traveller, Marcus loves international high stakes shoots where nothing can go wrong. He is so frequently on the move that his passport is more ink than paper. But the need to explore does not end there. Marcus is an early adopter of AI in film, utilising new technology to provide better edit, audio and captioning. Furthermore, he was the very first person to make film in Enter Agora, our Web3 tech spin off.
Marcus is an artist, and a step away from the traditional 'point and shoot' filmmaker. He is bristling with ideas and the desire to do things more efficiently for clients. Marcus has a clean understated aesthetic, which mirrors his Swedish roots and suitably complements the professional services world.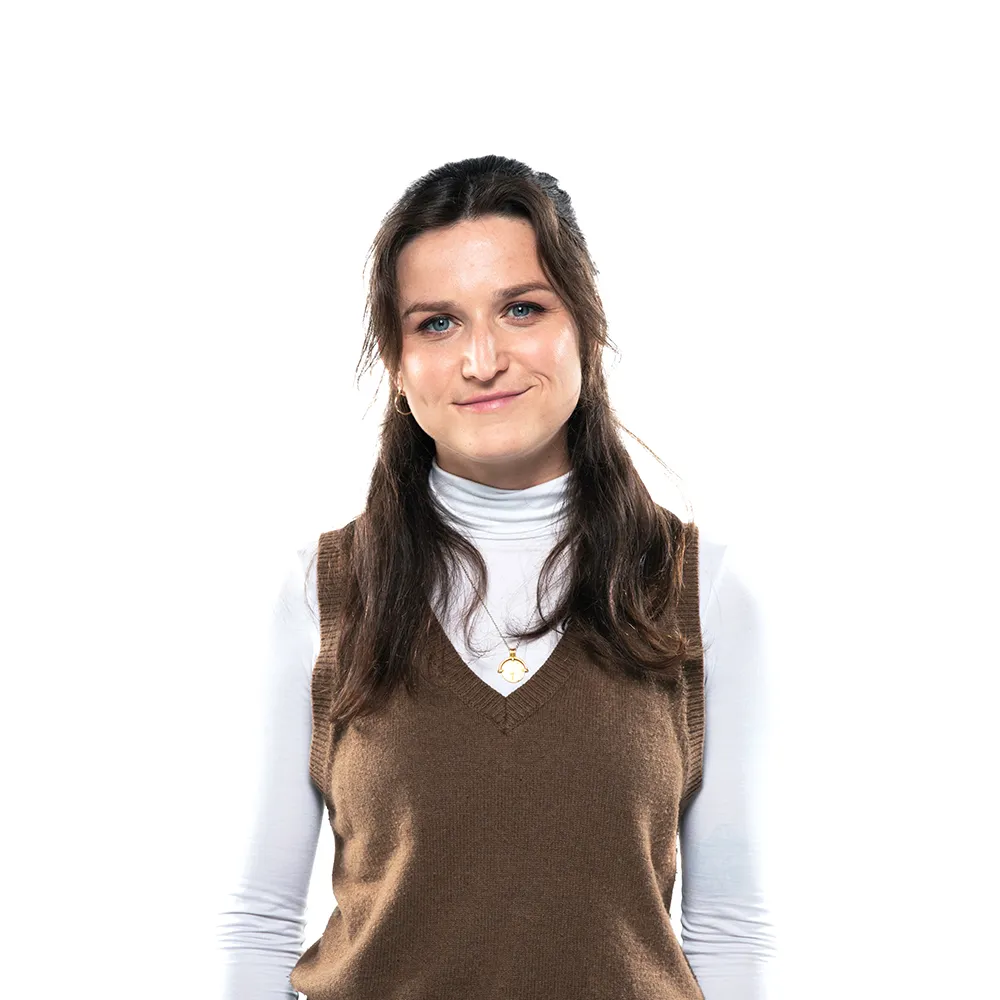 Caitlin Worthington
Account Manager / Artisan
In charge of projects day-to-day in our London studio, Caitlin acts as the interface between clients and creatives with style, and a genuine interest in both sides of that line. She joined Within International as an already accomplished professional in the creative industries having spent many years advising clients on which art to buy, and often where and how to hang it. So, an easy transition into advising professional services marketeers how to best present their work, how and where to get it seen.
Working closely with Kornelia Bala and Sarah Cestau, Caitlin completes our impressive client services triumphant. Unlike most Account Managers, Caitlin has seen the creative process from start to finish, advising on art purchases was twined with high-end carpentry and framing skills – she doesn't just advise, she does.
Clients warm to Caitlin as much for her attitude as her knowledge and talent. Wanting to get it done the right way and the first time is a point of pride. She also goes the extra mile to understand the clients themselves as well as the worlds in which they operate. Learning about the industries in which her clients work helps her to shorthand and silo bust to the advantage of all concerned.
Caitlin has an encyclopaedic knowledge of East London, and not just the bars, and is our go to guide for an evening out. Talk to Caitlin about theatre and film, but be warned, the answer to the question 'have you seen…' is invariably yes.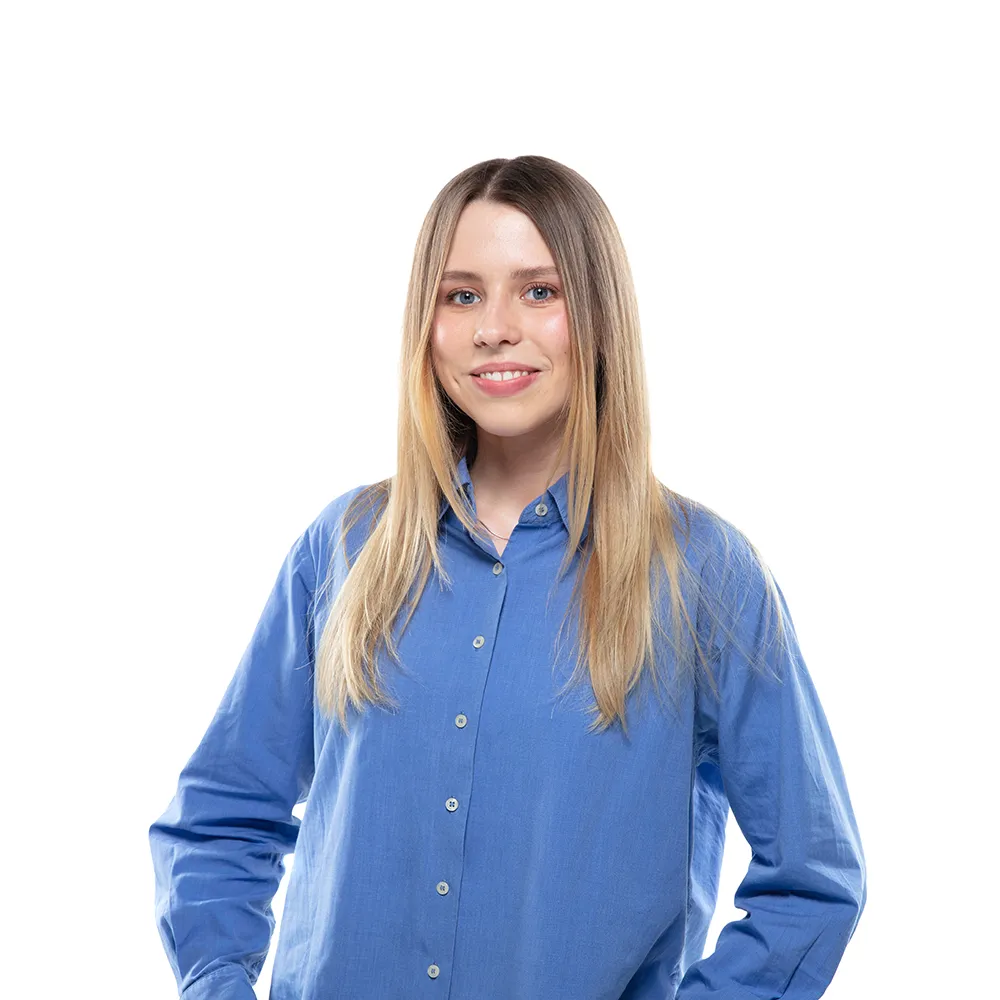 Karolina Sungailaithe
Brand Designer / Advocate
Every studio has a rising star that reminds the rest of us just how important it is to put the client first. In Karolina, we have the very best of that. Her thirst for understanding and the care she takes in getting to know what a client needs and, importantly, why, sets her apart.
Karolina is meticulous and it shows. She has an ability to process huge amounts of information with an accuracy and discernment that typically takes years of experience to achieve. Clients have quickly picked up on this and have made her value to them known.
She sits in the brand team with Tim Lucraft and led by Tolley Moloney, both of whom are very experienced, and both of whom would readily admit that they have learned a lot themselves from Karolina during the early stages of her career. She embodies the ethos, 'if you are good enough, you are old enough,' and has already worked on complex projects and rebrands, rising to each challenge with the same tenacity we've come to expect from her.
Born in Lithuania, Karolina moved to London via Yorkshire – quite the culture shock, you may think? Not so, she seamlessly adapted, as she did into the culture of our studio. She is so good we often discuss how invaluable it would be to clone Karolina. As such, conversations with her twin sister are ongoing.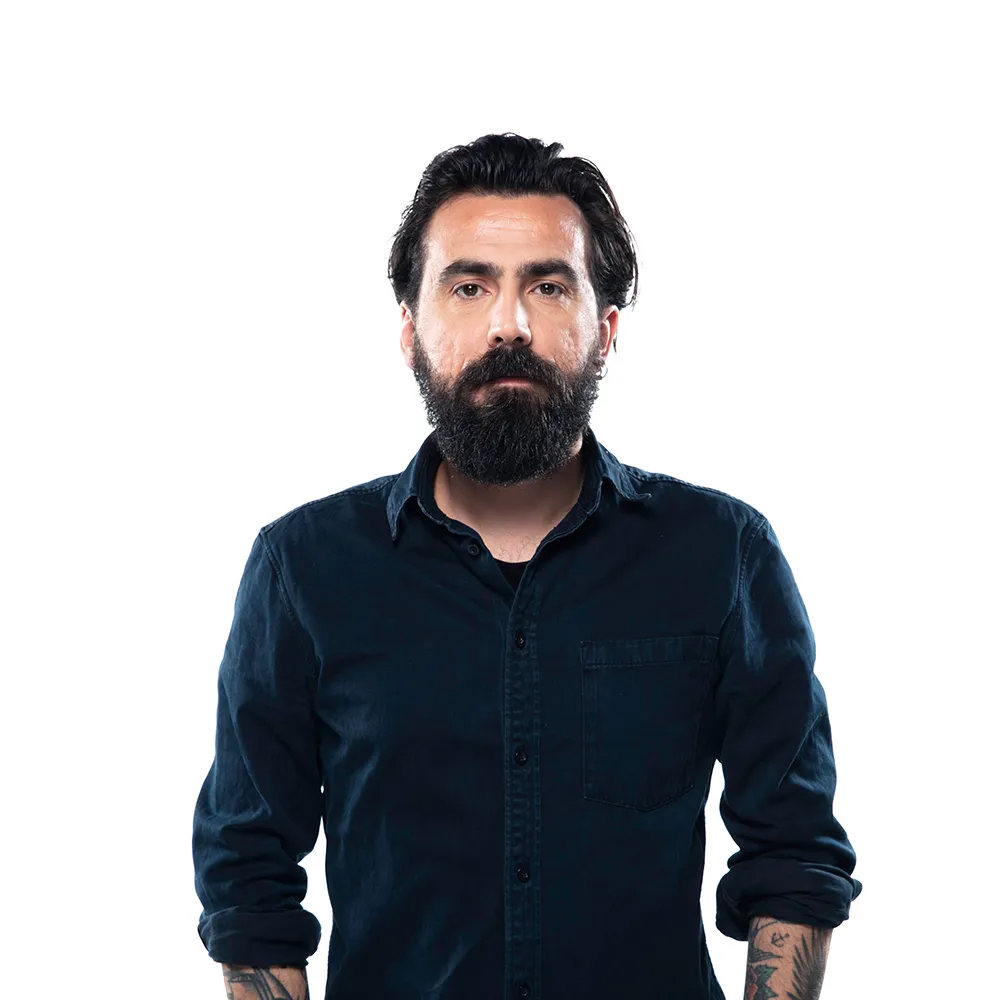 Aris Athanatos
Creative Specialist / Magician
Aris is a multifaceted creative who has made a name for himself in the fields of UI/UX, film production, and branding. While originally brought in to focus on UI/UX, he has since dabbled in nearly all our service offerings, always with a seamless transition between teams, partly due to his warm inquisitive personality and partly because there is nothing he can't do – really, it's borderline annoying.
Of Greek stock, Aris takes the meaning of his name literally. His surname translates as 'immortal', which is apt, as Aris runs 10 miles a day, every day, which would kill most of us. And just for good measure, after a morning run and a full day in the studio, he runs another ten miles in the evening, too (no, really, he does).
When not pounding the historic footpaths of Athens, Aris is most at home on set. Clients comment on his calm nature, how it sets them at ease and makes the process of having four cameras pointed at you an enjoyable one. A lot of the work he does goes unnoticed, but his attention to detail and forethought are heralded in our studio. His approach sits squarely in the niche Within International has carved out for high-end film with a matching client experience.
In addition to his work with Within International, Aris is a key player in Enter Agora, where he helps visitors understand and navigate Web3 in a practical and straightforward manner. Aris is always available to his team and clients alike and gives everything he does 100%. Working with him is a pleasure, and his contributions to any project are invaluable.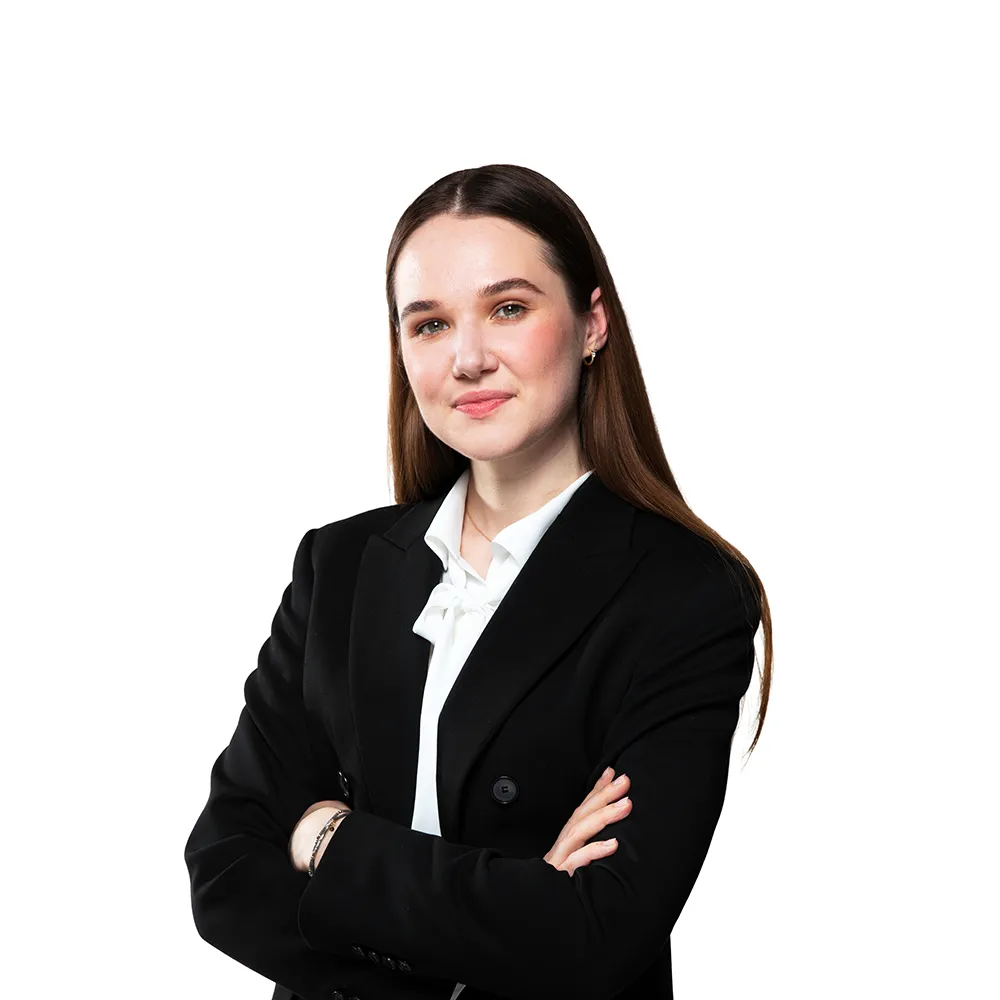 Karina Pivo
EA to CEO & Founder / Diviner
When something absolutely has to be done, when it has to be perfect and there is no possibility it can go wrong, Karina has already done it and sent you the confirmation. A genuine cornerstone of our business, Karina's work is often the foundation upon which the rest of us are able to do what we do. Calm, collected, elegant and brutally smart, she manages and maintains everything from logistics and travel to finance and expenses. With people skills usually associated with the luxury hotel sector, Karina is often the first impression clients have of us, and she is an impeccably good one.
Occupying a position of constant well-managed pressure is where Karina excels. Able to navigate multiple disconnected and complex matters at once is a skill few possess. To do it so consistently for so long is testament to her prophet-like powers of prediction. The joy of working with a professional with an ability to know what is coming and have it done is constantly highlighted by the team and clients alike.
Karina's unflappable demeanor is the perfect complement to the fast-paced world in which we operate. Like many members of our team, Karina received part of her education in Eastern Europe, which has resulted in her having a grammatically superior command of English compared to that of native speakers and a work ethic that is second to none.
Her interests range from fashion and gaming to Japanese culture – a conversation with Karina is always a pleasure, and often an opportunity to learn.