Our film projects were the first to feel the brute force of the pandemic earlier this year. Client shoots got postponed indefinitely and were swapped for Zoom webinars and iPhone vlogs. Head of Film, Ben, was kept busy putting together livestreaming solutions and assets for Enter Agora, our virtual experiences platform, but nonetheless was itching to get back behind the camera as soon as he safely could.
An ease of restrictions in July finally resulted in a trickle of projects re-entering our studio, but none quite as ambitious and exciting as the shoot completed just this Saturday for Arup, onsite their impressive 1 Triton Square development in Euston.
Ben put together some incredible shots which will go into the final film.
1 Triton Square sets a new benchmark for commercial real estate. Once complete, the BREEAM outstanding building will be one of the most sustainable office headquarters in the UK. First designed by Arup for British Land in the 1990s, it is now being refurbished with a radically different circular economy and total architecture approach. Instead of demolishing and starting again, marginal gains in the design and construction have enabled Arup to minimise both embodied and operational carbon, reduce construction costs, double the net office area and speed up the development process. So far they have saved over 40,000 tonnes of carbon – equivalent to the annual energy consumption of 10,000 London homes.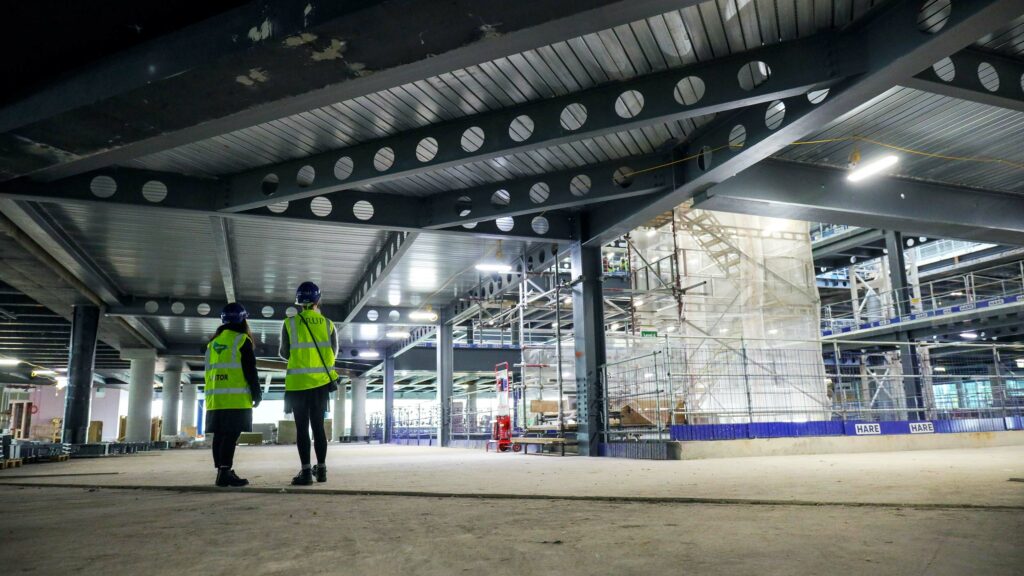 Ana Rita Teodoro, Head of Brand at Within International (L), with Suzanne Harb, Marketing & Bids Coordinator at Arup (R), conducted a site visit in February in preparation for filming later in the year.
To show off the craftsmanship and technical detail behind these marginal gains, in the editing process we will be combining live footage from the shoot with a Cinema 4D render of the building and intricate motion graphics. But we cannot reveal too much before the project is released in its full glory – so you'll have to stay tuned for the end product.
Instead, what prompted this article was firstly the results of Ben shooting from a cradle hoisted 200m in the air over central London, and, more importantly, wanting to share the admiration we have for our clients and their partners for how well they handled the experience from a health and safety perspective.
When arriving to shoot on Saturday morning, what was remarkable is how reassuringly normalised the new safety conditions were. Clearly sign-posted routes were in place with one-way navigation and the crew adhered to social distancing and capacity limits on space-restricted areas without a second thought.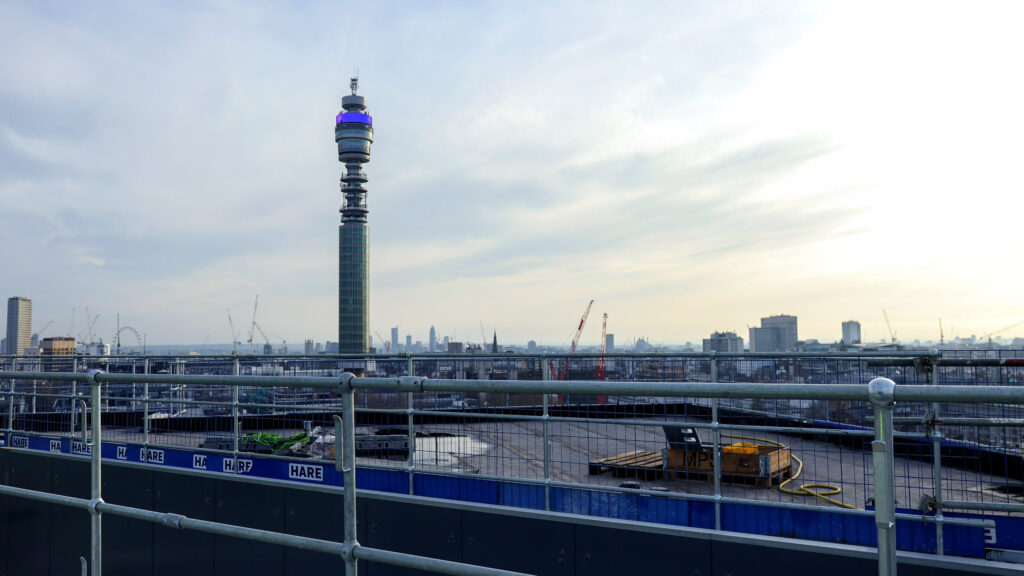 But what truly impressed us was the attitudes of everyone involved. Client-side, Arup's team sacrificed a Saturday to join us and proved to be an invaluable asset in directing our attention to how innovation at Arup is reflected onsite and how that in turn should be communicated in the film. Additionally, Melanie Heath, Arup's Marketing & BD Lead, stayed in contact throughout to track the process and sign off on sample shots.
Pandemic or not, the shoot proved you can overcome most obstacles when you partner with the right clients.
We look forward to delighting you with the final film.
Ready for your next film project? Give us a shout!