Personal interests often infiltrate the workplace when teams are close knit – and while some companies are content with their team's hobbies resulting in the occasional baked good or wine bar recommendation, our colleagues prove time and again that creativity breeds creativity.
After being thrown together on multiple international trips, it became apparent that long exposure photography is one such interest that our Head of Film, Ben Neeves, and Graphic Designer, Milan Ozegovic, share – with some pretty spectacular results.
We sat down with Ben and Milan to get to know the technique, why it interests them and how it complements our offering.
So, first of all, what is long exposure photography and how is it achieved?
BN: Long exposure photography captures movement and the passage of time in a shot. With a camera locked in position, the sensor of the camera is exposed for much longer than the standard fraction of a second most photographs are taken in, and this allows for trails of movement to be captured – whether that's light, water, transport or people. It's a powerful tool in a photographer's arsenal and requires a lot of patience and precision.
What can a photographer do to manipulate the results of a long exposure shot?
MO: The key is shutter speed, so exposing the sensor for 20 seconds or 20 minutes will have completely different results. It takes some forward thinking to get this right – you have to consider the environment you're shooting in and what perpetual motion you want to highlight in the shot. Framing of course also comes into it, as with any photo, but the real skill is in catching the right movement in the right timeframe.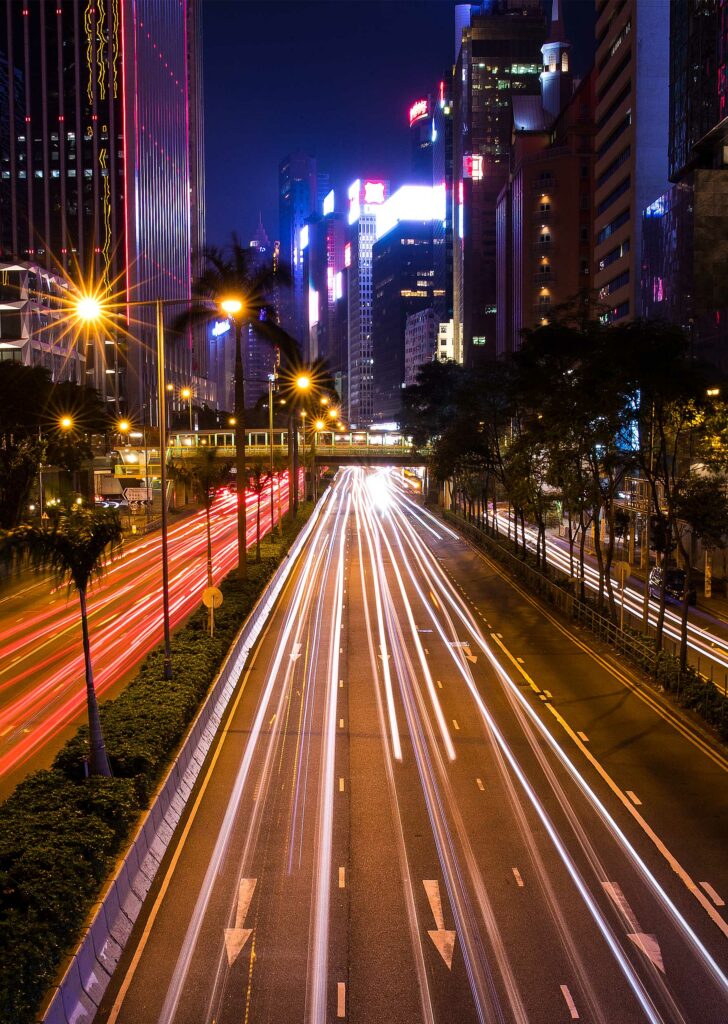 Hong Kong at night offers a wealth of long exposure photography opportunities.
We know you guys have woken up at 5am or stayed out after a full-day shoot to capture these photos. What's the appeal in dedicating so much time and patience into long exposure photography – beyond the fact it looks good?
BN: Film will always be my main vice, but long exposure is the link between motion and stills. With the right planning it has the potential to showcase the atmosphere – not just the visuals – of wherever you find yourself in the world. It can capture the frantic, electric streaks of New York or the solitude of a tuk tuk in the dead of night on a quiet street in Thailand.
"[Long exposure photography] has the potential to showcase the atmosphere – not just the visuals – of wherever you find yourself in the world."

Ben Neeves
Head of Film
Within International
MO: It has endless outcomes. You can position your camera in one place at one angle, but each shot will be different with its own focal point. As a designer, I'm always thinking about the final output, so how the image will interact with other content plays a big part in how I frame the shot, what colours I look for and where I allow for negative space. Plus – there's something pretty cool about designing a piece of collateral using an image that you captured yourself.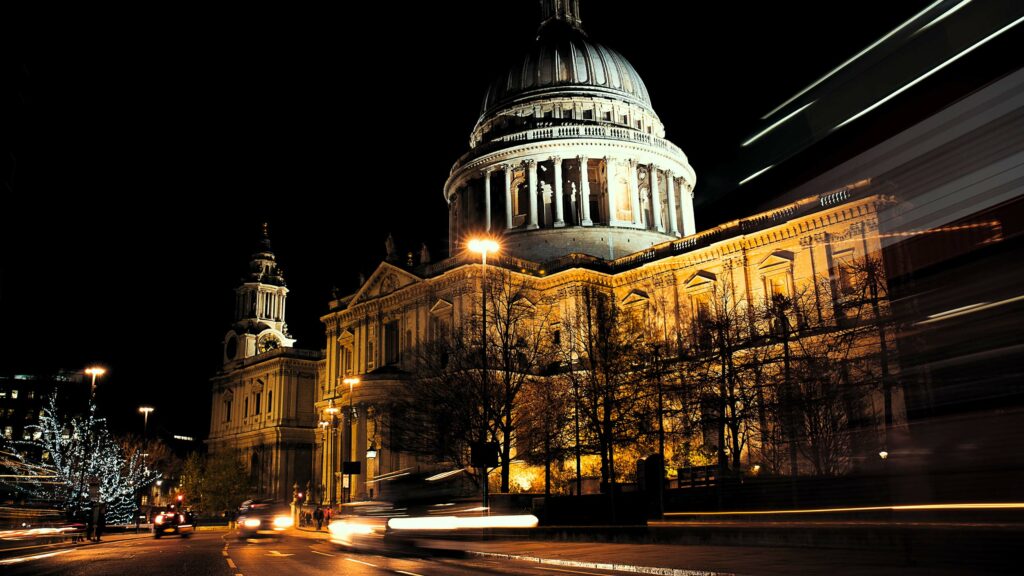 St. Paul's Cathedral in London.
Over the last few years of working together, Ben and Milan have captured a beautiful set of long exposure shots in London, Manchester, Paris, Madrid, Rome, Stockholm, New York, Bangkok and Hong Kong. Beyond being just a hobby, their photos also inspired the photography rationale behind one of our client's visual identity refreshes, with movement being the aesthetic representing our client's desire to continuously evolve.
If you'd like your brand's image library to be built on more than just the same corporate stock as your competitors, get in touch for a bespoke commission.