Head of APAC, Sarah Cestau, reflects on how curiosity, tenacity and a shared client-agency vision combined to create a one-of-a-kind report.
Decarbonisation in the shipping industry is a more pressing issue than you might think.
In business, there are sometimes relationships that feel like destiny at play. And it is always a treat when we meet clients that are willing to set sail with us into uncharted territory. I, for one, couldn't have been more grateful for the opportunity to feed my journalistic curiosity with the challenge presented to us by our client Fleet Management Ltd. (FLEET), one of the largest maritime services companies in the world.
FLEET approached us with an exciting mission: to structure, write and design a thought leadership report about new decarbonisation regulations in the shipping industry and the impact they will have globally.
FLEET were looking for a bold and original alternative to the usual shipping industry imagery.
With the reputation of being one of the largest polluting sectors, charged with approximately 3% of the world's greenhouse gas emissions, maritime trade is undoubtedly a prime target for energy efficiency regulations.
At this point, you might have noticed that our list of clients doesn't include other key players from the maritime sector. We are blessed with an extensive corporate clientele encompassing professional services, telecommunications, energy and construction, among others – but logistics, despite its strategic importance, was not part of it. However, as you will see if you read on, what we lacked in direct experience we more than made up for in the depth and breadth of our research.
It was with a natural curiosity that I met Samantha Beharie, FLEET's now former Head of Corporate Communications, to learn about the company and upcoming projects.
In our early conversations, we discussed the power of original imagery and the lack of it in an industry largely led by bird's-eye views of colourful container ships and sailing boats. One thing that I immediately noticed about FLEET is their personable digital presence and their strong sense of how to captivate an audience through human stories. But what about the other side of their business? The patented technology developed to streamline a month-long journey at sea, or the accumulated knowledge of their ships' specificities?
I felt that there was a lot more to unearth. Just like that, my curiosity was piqued. After a few hours of reading, I had made some notes on what would be the next big challenge for the industry, and – guess what – just like for our clients in financial services or real estate, ESG is re-modelling the shipping world too.
We created bespoke 3D renders to illustrate the report.
A few months later, call it fate or good work, FLEET decided to bring us into the world of shipping and trust us to tackle one of – if not the – most crucial hot topics of the industry: decarbonisation. They tasked us with creating an engaging document, from copywriting to final design, that would underline the stakes at play for their audience following the enforcement of new regulations in the sector.
The International Maritime Organisation (IMO), the United Nations' regulatory body, forecasts that maritime trade could increase between 40% and 115% by 2050 in comparison to 2020 levels, generating, if unregulated, an increase between 50% and 250% of carbon emissions by 2050. The shipping industry is clearly at a tipping point, with regulations like the ones IMO are pressing for causing an industry-wide shift towards carbon efficiency.
So, there was only one thing to do: I took a deep dive into this world to understand how these regulations would transform the sector, impact its stakeholders and our client. I was guided, of course, by the talented people at FLEET, who were willing to reveal the most technical aspects of their job to someone with the most basic of questions.
On a daily basis at Within International we deliver creative concepts, fast-paced animations and eye-catching pitch decks. In this project, the challenge lay in turning around copy that would hit the quality mark and bring added value to the seasoned reader, with a convincing tone in a highly technical industry.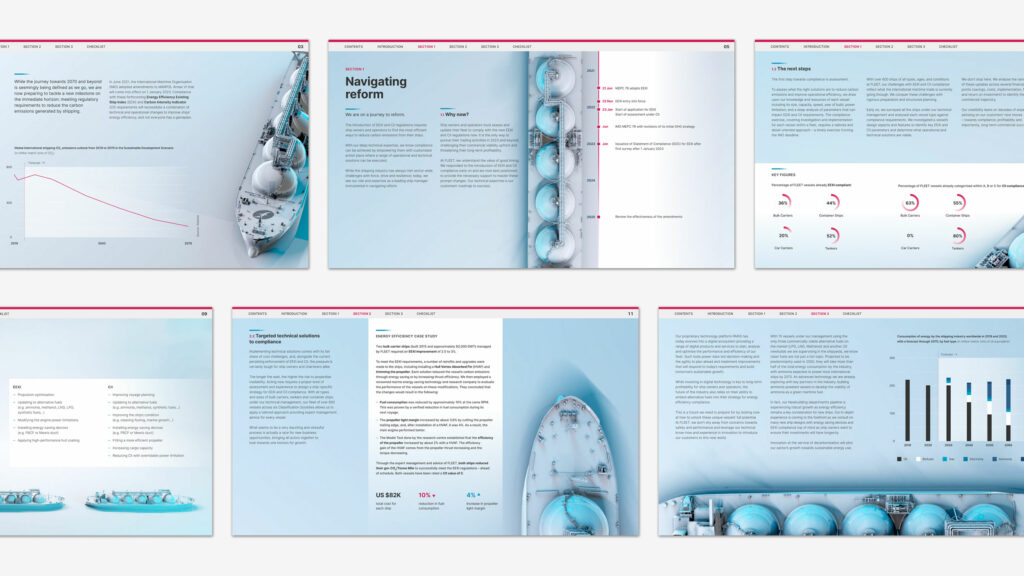 The report combined imagery, infographics and data to create a rich experience for the reader.
I brought in a few colleagues on my side to untangle all the information we received. The first step was to structure and order the content in a way that would address the main concerns of ship owners and create a direct contact with the audience. We also wanted to avoid the common pitfalls of negativity and doomsday prophesying, and instead trigger motion and emotion.
To be honest, it took a lot of reading on LNG fuel, writing about turbines, and sometimes drawing propellers to encapsulate the essence of what this thought leadership report would be. It meant hours of research, a few rounds of reframing and a lot of brain power (fuelled by curiosity) to get it right. Some (colleagues, friends, my partner) may have raised red flags during this process. And in all fairness, I should have seen the warning signs when I started measuring distance in nautical miles or hearing seagulls when working from Hong Kong's busiest office building. I was obsessed!
f there is one thing we love about our work and love to see in our clients, it is audacity. Bold clients that trust our vision and capabilities to empower them with impactful content.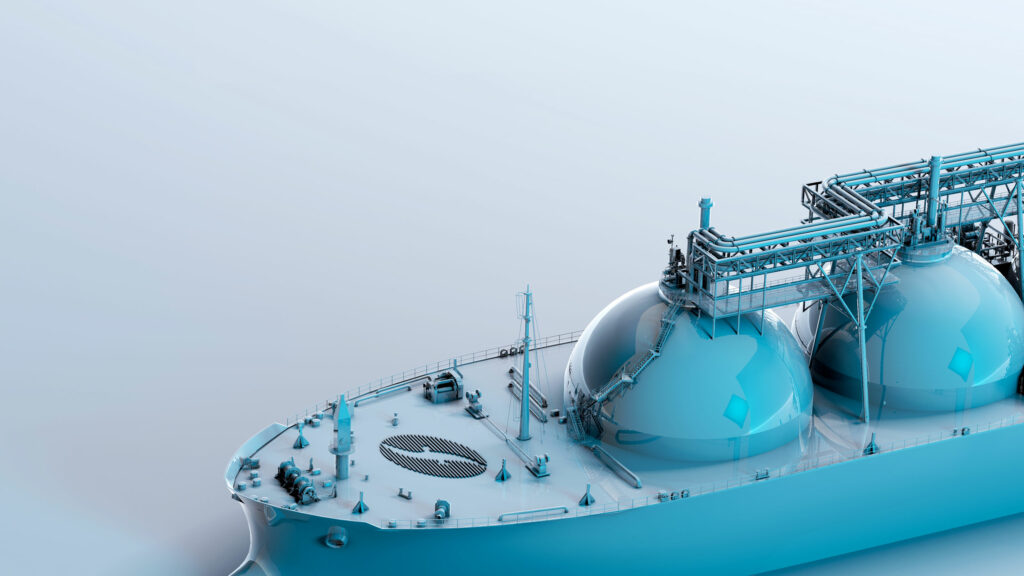 The 3D-rendered imagery is breathtakingly detailed.
Beaming with originality, the work we have delivered is future-proof. Using bespoke, 3D-rendered imagery to depict the horizon of the shipping industry brings out the universality of its fight against global warming, and the singularity of our client in such battles. It makes them unique, reliable, and forward-thinking. It lights up their brand on their clients' radar.
So yes, we were new to the shipping industry, but working with FLEET on such a complex problem and project reminded me that we can do anything, no matter the sector. It only takes finding the right partner.
Need help bringing a complex topic to life? Get in touch to find out more about our research and strategic consultancy services.