Three letters can describe Ruxandra Radulescu's position at Within International. But we would need many more to uncover the journey that brought her to sit at the head table at Within International's Leadenhall offices in London.
"I always knew I wanted to be a CEO. Even when I was six years old."

Your title: CEO. Tell us, what was the journey that brought you here?
"I always knew I wanted to be a CEO. Even when I was six years old, my mum would ask me what I wanted to be, and I would tell her, 'I want to run other people's businesses'. There is an unmistakable geeky side to me that has always been fascinated by how companies function, from a theoretical to a practical perspective.
"I was born and raised in Piteşti in Romania – what, you haven't heard of Piteşti? It is the sister city of Springfield, Ohio, which – according to Matt Groening – is the town 'The Simpsons' is set in, no? OK. Well, I would be the Lisa Simpson of Piteşti – obsessed with learning, well-behaved and keen to take over the world.
"Once I graduated high school, I studied International Relations at the University of Craiova, before working at The Romanian National Bank as a Financial Analyst in Bucharest. I then moved on to Brussels and began the research era of my career where I completed my thesis on the influence of the European Parliament on National Parliaments. At this point, I actually thought my career would go more towards working with EU institutions, but it was not for me – yes, there is a Brexit joke in here somewhere.
"I then moved to Barcelona with a scholarship from the European Commission, starting as an intern at ESADE Business School. I ended up being offered a post there, to organise and manage the implementation of international programs carried out by ESADE's Executive Education Department. You can imagine it was here that the obsession with how businesses operate began to grow. I was also surrounded by brilliant C-suite people at the peak of their careers, and this was an undeniably valuable experience. During this time, I also completed my MBA at the University of Barcelona/EAE Business School. This was the academia era of my career.
Rux attending an event during her time living in Barcelona.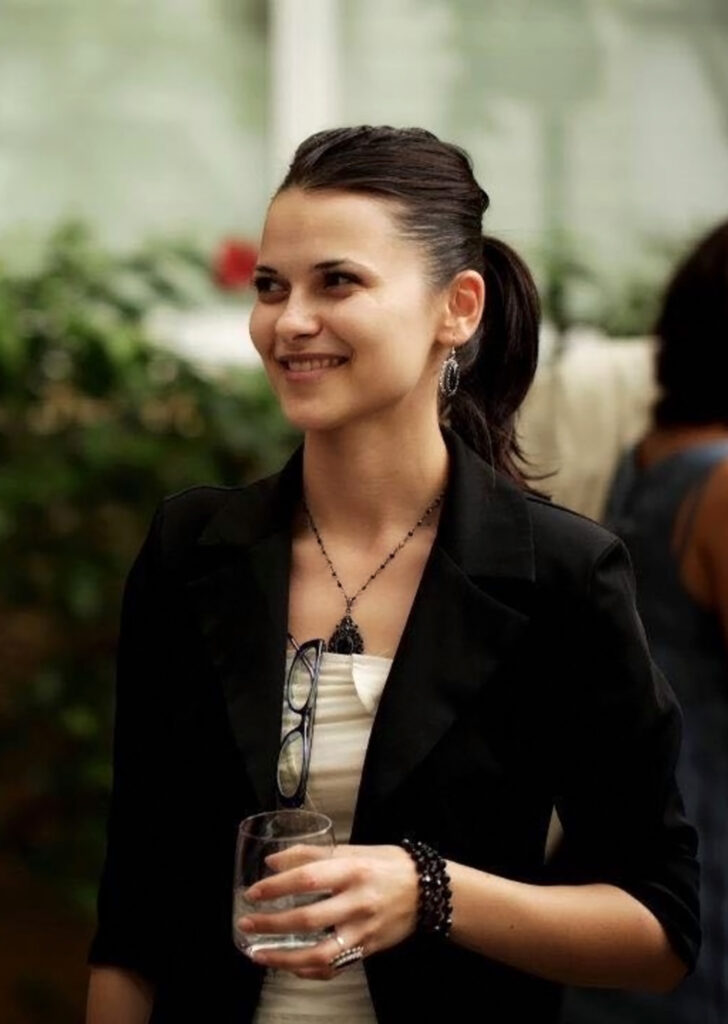 "But just focusing on the theoretical part of business felt like something was lacking. You are always learning about how to make businesses successful, but you are not actually putting it in practice – it is all Lisa and no Bart. Now that I have been on the practical side of business, I actually have come to realise that no theoretical scenario that I learned about came close to an actual business situation.
"Now, London. It's a completely different world, much more akin to my pace, which is rather impatient. I am so fortunate to be at a company that allows me to follow this rhythm – to be a leader that does not look to norms, does not look to bureaucracy. The company is original, and not afraid to take risks, which is very invigorating. It is a place where the people are intrigued by big ideas and driven by curiosity and critical thinking as opposed to endless processes and bureaucracy. It's excellent."
What is the best part about being CEO? More importantly, what is the most challenging?
"It is really inspiring to be in a space surrounded by the people you like. It is even better that you have the power to handpick them – it is very fulfilling to see talent and potential and surround yourself with it. When I was an employee, I always thought that my employer held all the power. But now as an employer, I realise that power actually lies in recognising true talent in other people, and fostering a high-performing team, each with their own strengths.
"The challenges… I think the biggest one is probably being cautious when you want to be brave. It is always having to look at the short-term P&L (profit and loss), but also not lose sight of the longer-term brave and bold direction we want the agency to take. It is a sometimes-unnerving paradox between being careful and analytical, while still taking the risks needed to grow the business. For that, you need to be ambidextrous and unrelenting, the ungodly amalgamation of Homer and Mr. Burns."
"I think a good indicator is the progression of the company, and the progression of its people, both of which continue to grow at pace. Great CEOs know the true value of their team and will reassess who they are as a person and as a manager to make sure the team keeps shining. It is your job to make sure they do not lose sight of the company's vision and find ways to keep them constantly performing at their best. Each person is different, so this requires a lot of empathy and instinct.
"Great CEOs know the true value of their team and will reassess who they are as a person and as a manager to make sure the team keeps shining."
"It's also the ability to constantly reassess situations and act, without making people uneasy. This comes with understanding, even embracing, that failure is a big part of the process. I have personally never been very good with failure, and it is something that I keep working on every day. I have come to learn that negative situations are lessons, but they only become 'building-blocks' if you keep on going. In turn, this has taught me how to remain humble to success and to keep an eye on the big picture. After all, every day is like a new episode in a long running series where my role flips between tireless shopkeeper Apu, and mad scientist Professor Fink.
"Being a great CEO is about changing how you see things because it is not about you. You don't just wake up one day to a new role and a new you. It is about learning to make connections that you did not see or pay attention to before and focusing on your team in a different light. It is about embracing curiosity and making sure you learn to balance your decision-making process, from the bigger picture moments to the small fires that need to be put out or stoked on a day-to-day basis."
What is your style of management?
"My style has been influenced by many factors, mainly the culture that I grew up in, and the things I have been exposed to throughout my life. I grew up in a country that is very disciplined, that looks at hierarchy and meritocracy as a way of earning your stripes, so I tend to have a more disciplined management style. This is a perfect foil to Will's style. As Creative Director, he is always in there, getting his hands dirty, surrounded by the team. His role is to be inspiring and get people excited, whereas mine is to keep heads level."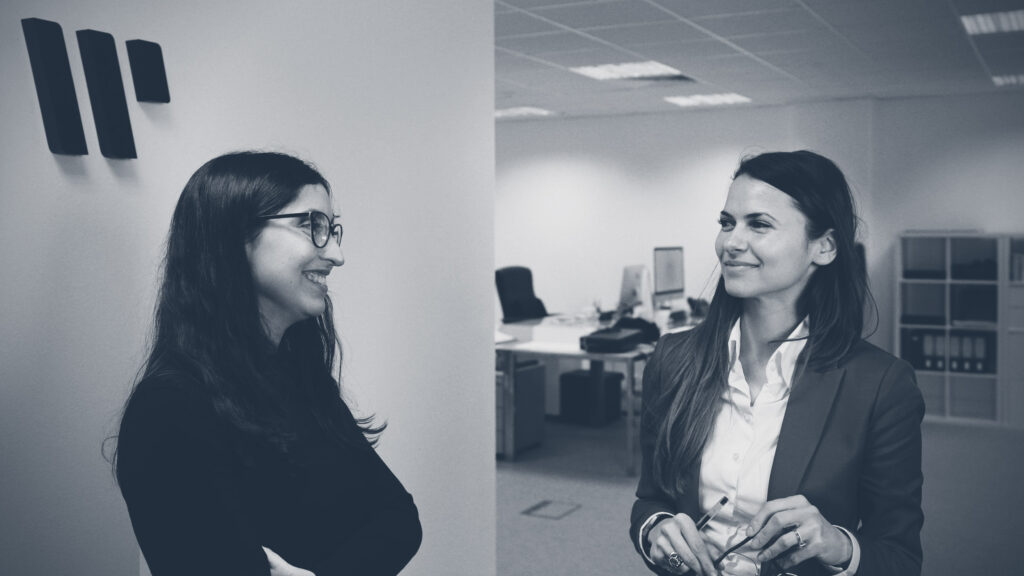 Rux (R) talking to Ana Rita Teodoro (L), former Head of Brand, in Within International's London office.
Who has been the most influential person in your career?
"Definitely Will. I tell him all the time, but he doesn't believe me. He has one of the most brilliant minds I have ever seen – and I have been surrounded by many of them. The way he thinks has always inspired and infuriated me – he sees things and makes connections that most people do not, and many times, I wish we could swap! But then, I speak five languages – Romanian, English, French, Catalan and Spanish, and he is very envious of this when we travel. I used to be a Lisa Simpson-shaped Olympian in Latin, but who cares? No one speaks Latin properly anymore – 'abusus non tollit usum.'
"There is nobody I would rather have in a critical or difficult situation – or to run a business with – than Will. He puts a lot of faith in people. Even if he has only met someone once, if he sees something in them, he will snatch them up in a heartbeat. Not only did he single-handedly start and build Within International into what it is today, he always looks to big things, to greater things. He is the guy that can change big minds."
What experiences have had the biggest impact in shaping your career?
"Ambiguity. I have experienced it my entire life. I've moved from country to country, from city to city, and always by myself, without knowing a soul. And I thrived on it. I loved not knowing, but learning. I loved having the confidence that there are no limits to what one can achieve. I have thrived on always creating a better me. And it is for this reason, when I am in the midst of ambiguity, either professionally or personally, that I am at my best.
"Now I have a supportive and multi-dimensional new professional family, it is my responsibility to look after it.
"This was always going to end with me being Marge."