Launching our methodology for expert rebranding with zero capital expenditure.
Among the myriad reasons businesses rebrand, taking a different direction or needing to differentiate tend to be the most compelling. With so many businesses pivoting in response to the challenges 2020 has brought, I have seldom had so many enquiries about rebranding and repositioning. This is, of course, excellent news for our studio – but as with everything this year, the upside has a very distinct downside lurking just behind it. Although the need is there, the unfortunate reality is that few businesses have the finances available to fund what can be a costly exercise in the "cash is king" environment brought on by recent uncertainty and instability.
But change still happens, and it's happening on steroids right now. Whether your catalyst is a merger or acquisition, a need to attract talent, a new service offering, an aim to reposition in the market – or you are simply embarrassed to hand over your business card – it is time to rebrand.
So how is business able to avail itself of a high-quality rebrand when there is no budget available?
Whilst it is easy enough to explain that now is the perfect time to reinvent yourself and, internally, to demonstrate that a business has changed to react to the "new normal", this kind of spending would be unlikely at best. In fact, it would be a very brave CMO that suggested a significant CapEx spend on anything to the board right now. And to the best of my knowledge, no design studios are working for free.
This exact situation is how I found myself in a conversation with the CMO of a large business in the financial sector, which I have had the pleasure to know well since 2017. They like our product and we like them, so the fit is natural. They opened conversations with us on rebranding in January, but, like everything else I discussed at the start of the year, it was postponed. So, I was delighted to receive a call in June about reigniting the project. I am paraphrasing our exchange, but the general gist of the call went as follows.
New client: "We need to rebrand; which is great, but, we do not have access to any additional funds and our existing marketing and comms budget is maxed out on day-to-day work. We still want to work with your studio as we discussed earlier in the year, but I cannot get any additional funds. In short – how can you rebrand us without spending any more money than we presently do?"
I have never been one to jump to conclusions – doing so is always counterproductive in our line of business – so I did not immediately answer. There was an awkward pause before I confirmed the brief back:
"Full rebrand, no additional funds, all existing budget is already earmarked for existing work… oh, and all that during the worst contraction in the UK economy in 40 years."
Another momentary pause, then the call descended into laughter. To our new client's credit, the enormity of the task was not lost on them. And whilst calling an agency to ask for work you cannot pay for is not a move I would recommend, if you must, an injection of humour and honesty certainly helps.
We ended the call on very jovial terms and I promised to give it some thought. Neither of us had any expectation that I would be able to find a solution that worked for such an impossibly one-sided arrangement. But, as I have said before, clever clients know to plant challenges in our heads ahead of time because creatives are unable to wait to solve a problem. As the CMO of a US-based law firm and long-term client of ours says, "I am going to tell you what I want in Q2 now, so I get Q1 thinking time for free." (I will not name this client, but you know who you are. Feel free to explain yourself in the comments below). It is actually really clever, and there are benefits our side too – it allows us to know what is coming.
I attempted to spend that evening with a really interesting book our CEO Ruxandra Radulescu sent to the entire team, which was a wonderful gesture. Unfortunately, I did not manage to get through the first chapter (please keep that between us) as I kept playing scenarios over as to how we could undertake a rebrand without additional budget. What could we get out of it, if not fees? We do not need any portfolio pieces; our client list is incredible. We do not need the PR, as the last thing we need is hundreds of enquiries for free work. We do not need work for the juniors to cut their teeth on; we do not have juniors.
Then it clicked. We might actually be able to achieve the impossible. What we need right now, as we all do, is certainty.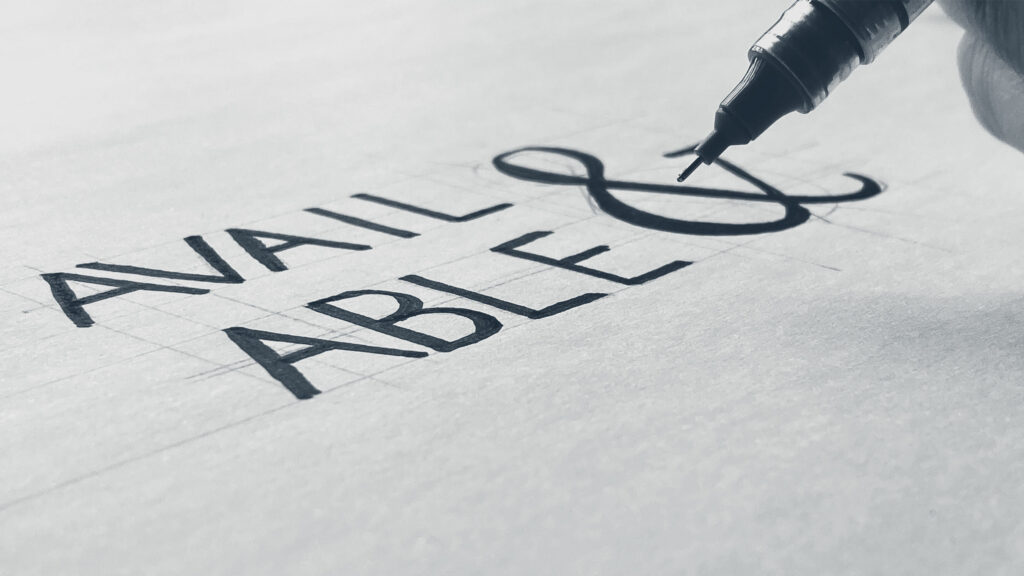 Avail&Able: our new methodology for expert rebranding with zero capital expenditure.
Because Avail&Able is such a good idea, I am not going to describe it here. Yes, I know, you have been reading for three minutes now and wanted to know how we are doing this. But how we do it is something we will discuss privately with clients and potential clients alike. Giving our clients the ability to stroll confidently into the boardroom and state that rebranding is possible without additional CapEx spend is gold dust right now – you will understand we want to keep it to ourselves.
There is good news of course – if you need to rebrand your business but have no additional budget to achieve it, we have a methodology that will make it possible. Just get in contact with me at will@withininternational.com.